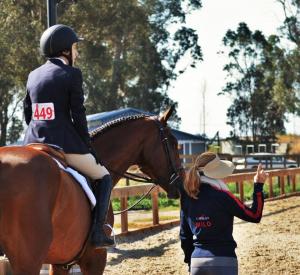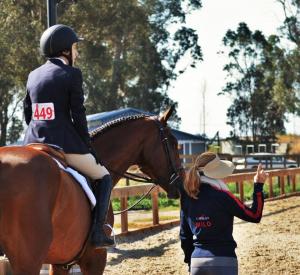 Our Training programs are designed to meet the needs of riders from all levels. If you don't see a program below that meets your needs, contact us and we will be happy to discuss additional options that may be available.
Full Training Program:
Our full training program is designed to improve riding skills, build confidence and accomplish personal goals. Most of our riders take two group jumping lessons, one private jumping lesson and one intense flat lesson each week. Our horses are usually trained by Sami at least once a week or more if needed.  Each rider receives one private per week as part of their training when Sami is home.
Full Training includes five training sessions per week and is $550 per month.
Additional private lessons are $55 per horse in full training.
Payment Policy:  Board and Training are due the 1st of each month and deemed late on the 6th.  Late payment will result in a $25.00 late fee plus $2.00 per day thereafter.
Training Program Lessons:
Group Lesson - $65 or $60 each in a package of 4 or more.
Private Lesson - $80 or $75 each in a package of 4 or more.
Training Rides - $85
Payment Policy:  Payment for individual rides or lessons are due on site.  Package payments are due by the 1st and deemed late by the 6th.  Late payments will result in being charged full price for lessons.  Cavallo Stables reserves the right to discontinue lessons until the payment is received.
Horse Show Fees:   
Show Fee- $325 for horses in training, $475 for horses not in board and full training.
Set-Up Fee- $50 per show
Misc. Expenses- Supplies $20, Bute $10, Travel is split and depends on location.
Feed, Bedding and Tack Stalls are split.
Possible Mandatory Photo Fee if a photographer is hired.
Grooming- $500 per week
Horse Show Payment Policy:  Horse Show payment is due on receipt of the invoice and deemed late 3 days after receiving.  Late payment is subject to a $25 late fee, plus $2 a day thereafter.  
 
Horse Show Cancellation Policy:  Cancellation after the horse show entry deadline will result in a $325 fee payable to Cavallo, plus horse show fees (including stall and splits) payable to the horse show and the full grooming fee payable to the groom. 
Contact Sami to find out more about our training program options!